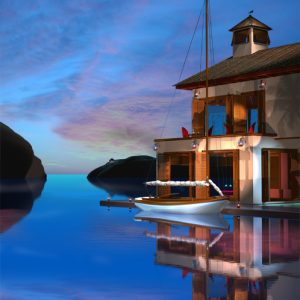 Stephen Harlan
Stephen Harlan's unique and special visions will inspire you in ways like no other artist.
Harlan's digital artwork has been exhibited at some of the finest commercial galleries in the United States and Europe. Today, not only are his highly unique works available to collectors of high-quality original art, they are also offered as art print reproductions suitable for any home or office environment.
Come explore the exhilarating world of "color and contrast" created by Stephen Harlan.
Inspired by the sea, the shoreline and "all things nautical," the Water's Edge collection conjures up the many moods of water in all of its manifestations.
Stephen Harlan creates uniquely special "spaces and places" that can't help but attract the eye: An imagined space that draws viewers in … and a magnetism where they want to become a part of the scene.
Each inspired work in this distinctive collection is "visioned" and shaped in Stephen's mind, then meticulously rendered with an eye to "color and contrast" to create a magical mood – suspended in time … in space … and in the imagination.
Stephen Harlan pieces are produced in limited editions, hand-signed and numbered by the artist.